Yoga for #ROCmarathon Runners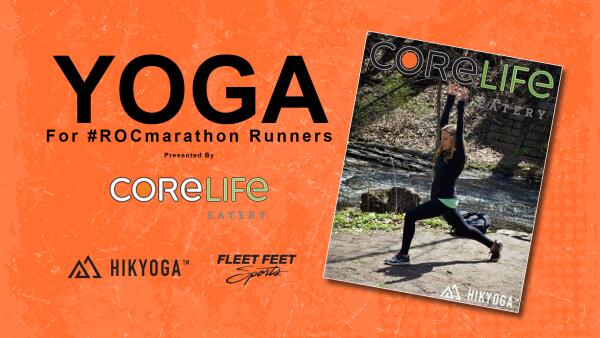 CoreLife Eatery is teaming up with Hikyoga's Nicole Kazimer and Fleet Feet Sports to offer FREE Yoga for Rochester Marathon participants!

Four outdoor classes will be offered at Fleet Feet Sports @ The Armory (155 Culver Road) on the following dates:

Tuesday, August 15th, 6:30 – 7:30 pm
Tuesday, August 22nd, 6:30 – 7:30 pm
Tuesday, August 29th, 6:30 – 7:30 pm
Tuesday, September 5th, 6:30 – 7:30 pm

Registration is required, as each class is limited to 45 participants. You are welcome to register for multiple classes, but please register for each class individually.

Please bring a yoga mat

*These classes are only being offered to those that are currently registered for the 2017 Rochester Marathon, Half Marathon or Team Relay. Race registration will be verified.

WHY YOGA?
Yoga for runners provides many benefits, with two major ones being increased strength and flexibility to the whole body and prominent to arms, backs, and legs. Yoga practice oxygenates the blood and creates more energy, leaving the body and mind feeling restored and energized. Breathing is also enhanced with yoga practice as yogic breathing has been shown to increase lung capacity, and greater lung capacity increases endurance and improves overall athletic performance.