If you're looking for a breathtaking course that takes you alongside a gorgeous river, complete with 3 waterfalls, includes views of Lake Ontario, and winds itself through a heck of a lot of history that created our great city, this course is for you! Just for fun, we've also thrown in 4 bridges, 2 scenic parks, and a couple of hills to provide the perfect mix of elevation change to challenge you along the way. Click here to view course maps and information.
Prepare yourself for overwhelming support from spectators and volunteers along the course - especially from the neighborhoods along St. Paul and the high school athletes powering you up Brewer Street Hill. Not to mention, the pure excitement of the crowds along Morrie Silver Way as you make your way to the finish line outside Frontier Field.
There is a 6.5 hour course limit for the full marathon. The finish line will close at 2pm.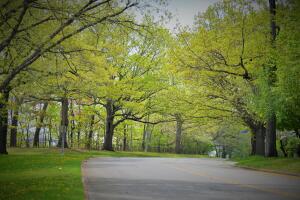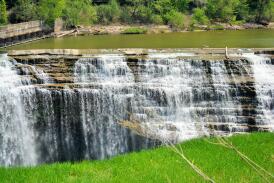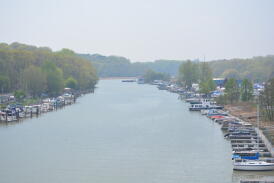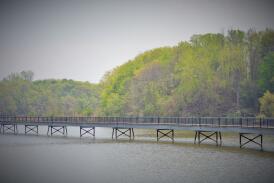 COURSE MAPS ON MAP MY RUN:
USATF CERTIFIED MAPS:

ELEVATION CHARTS:
COURSE DESCRIPTION - ROCHESTER MARATHON & HALF MARATHON:
The race start is in Maplewood Park on Maplewood Drive at 7:30AM (for all races)
There will be shuttle services available to the start line from Frontier Field.
Runners will line up at the Starting Line, located on Maplewood Drive (by the tennis courts)
You will head northeast on Maplewood Drive toward Riverside Street and continue down Maplewood, veering to the right on Bridgeview Drive
From Bridgeview Drive, you will continue to Maplewood Drive, staying on Maplewood Drive until you get to Lake Avenue, taking a right onto Lake Avenue
Heading North on Lake Avenue, you will pass the historic Riverside Cemetery and get on the Genesee Riverway Trail (take a right off Lake Avenue to the river trail)
You will pass through gorgeous Turning Point Park, staying on the river trail until Petten Street
Take a left onto Petten Street, and a right onto Lake Avenue, heading north on Lake Avenue
You will take a right off Lake Avenue and cross over picturesque O'Rorke Bridge where you can view the Port at Charlotte & Lake Ontario on the left and the Genesee River on the right
After the bridge, you will take a right onto Thomas (the relay stop exchange will be here)
You will head south on Thomas to St. Paul
You will take a right onto St. Paul and continue heading south
From St. Paul, you will take a right at Cornell Cooperative Extension into their parking lot, continuing to the back of the lot which leads you to the Seneca Park
Zoo's overflow parking lot
Cross the zoo parking lot, and take a left to get on the river trail to the pedestrian bridge in Seneca Park
You will cross over the pedestrian bridge heading back to Maplewood Park
Once you are over the bridge and come out to Bridgeview Dr, take a left on Bridgeview and go under the 104 bridge, taking a left after the bridge onto the river trail & head southwest toward Driving Park (where the Maplewood Rose Garden is)
At this point, the Half Marathon will continue south and the full marathon will repeat the loop.
(Marathon starts second loop) Once you reach Driving Park, the full marathoners will take a right on Driving Park back into Maplewood Park, taking a right on Maplewood, passing through the Maplewood Rose Gardens and will do the loop again, this time passing through the Riverside Cemetery.
(Half Marathon continues south) The half marathoners will not get off at Driving Park, but will stay on the river trail crossing over the river again at Middle Falls, then going left after the bridge and turning right onto Brewer Street
Half marathoners will take Brewer Street to St. Paul, taking a right on St. Paul, passing the Brewery and turning right onto Cataract Street
You will cross over the Pont De Rennes Bridge, crossing over State Street & Plymouth Avenue to the Finish Line in front of Frontier Field on Morrie Silver Drive
After full marathoners complete their 2nd loop, and reach Driving Park, you will continue along the same course as the half marathoners did to the Finish Line
COURSE TIME LIMIT:
There is a 6 1/2 hour course limit for the Full Marathon. If you are not keeping up to pace, you will not be allowed to stay on the course. This will be strictly enforced. Full Marathon and Relay Participants must reach the Driving Park turn off (roughly 11.5 miles) by 10:30AM to be able to continue on with the marathon distance. If you do not make it to this location in time you will be directed to continue on with the half marathon course.
2nd Cutoff - You must be at Relay Stop Thomas and Pattonwood by 12:05PM otherwise you will be removed from course.
Click here
to see a chart of what time you need to pass each mile by to keep up to pace.
WATER STOPS/PORTA-POTTIES:

All water stops will have water and porta-potties. There will also be an electrolyte drink and an energy gel on course at specific water stops.
Click Here for a Listing of Water Stops